Hungarian popular referendum about refugees and the EU
From the inside of Hatelands
We are kind of over the period of more than two months of the Hungarian Fidesz government orchestrated hatred campaign, where the ruling Party have burnt more than 20 billion HUF (72.8 million USD) on all kinds of media places to tell the people what to think and vote about the referendum they have initiated. It's been already said that this was probably the most evil campaign ever in the history of Hungary since World War II, full of outright lies, violations of local (and most probably international) laws and unbelievable amounts of intervention in the life of public institutions from elementary schools to the law enforcement.
This has already been mentioned about this refrendum, and it surely help to understand the results. The average citizen get the news from the now completely Party-controlled public media, where they have acquired, taken or forced to have released to them most of the nationwide TV channels, they force providers to put these channels in the first programmed places, if you can imagine such a thing, so they use 7 TV and at least 2 radio channels to reflect their own view and provide selected and filtered news to the ignorant masses, so it may not come as a surprise that the government dictated results came out in majority. In fact this has been known well before the actual results, there was zero doubt about that.
However international, and even national news failed to show the much more relevant points to help understand what the results really show. Let me provide you some insight.
There are many objective analysis of the referendum from non government controlled institutions, and many agree in that the referendum possibly violates the national election laws (since there is no possibility to start a referendum in a topic where the National Assembly have no power), that the hate campaign of the government violated many local laws (since the government must not take sides in a referendum and the FIDESZ party [which technically a spearate legal entity but in reality spends the public founds as they were the government] are not in the position to use public funds to do a public campaign) and the referendum was completely pointless for many reasons, including the absence of information about what the government want to do with the results.
These have been the reasons that many parties, NGOs and politically active and even many not really active organisations called people not to engage in the voting process since it's illegitimate and illicit, and other entities (like the originally joke purpose Hungarian Two-tailed Dog Party, who now became the "neither of them" choice of some more informed voters) suggested the people to boycott the referendum by casting deliberately invalid votes.
People have been debated about these: should I stay home to boycott or should I go and cast an invalid vote? It is kind of surreal when one realises that in 2016, in Europe, it is a completely believable and natural thing that we have to calculate how to counter-measure the voting fraud of the government; whether it is easier for Them to fake your signature and vote when you stay home or whether it's easier to use a fake vote when you have signed your presence; how you should take care to make your invalid in a way that they cannot "interpret" it as a valid one (since there was an official guide how to interpret invalid votes as valid unless it's absolutely not posisble to misinterpret); how could the people somehow check whether the results were reflecting the reality. It did not help that most of the voting booths were validated only by governing party selected people.
Therefore it is very important to see how many people have actually stayed away and how many invalid votes were cast.
There are always invalid votes, that's normal. However, let me show you a comparison of the elections and referendums of the past decade: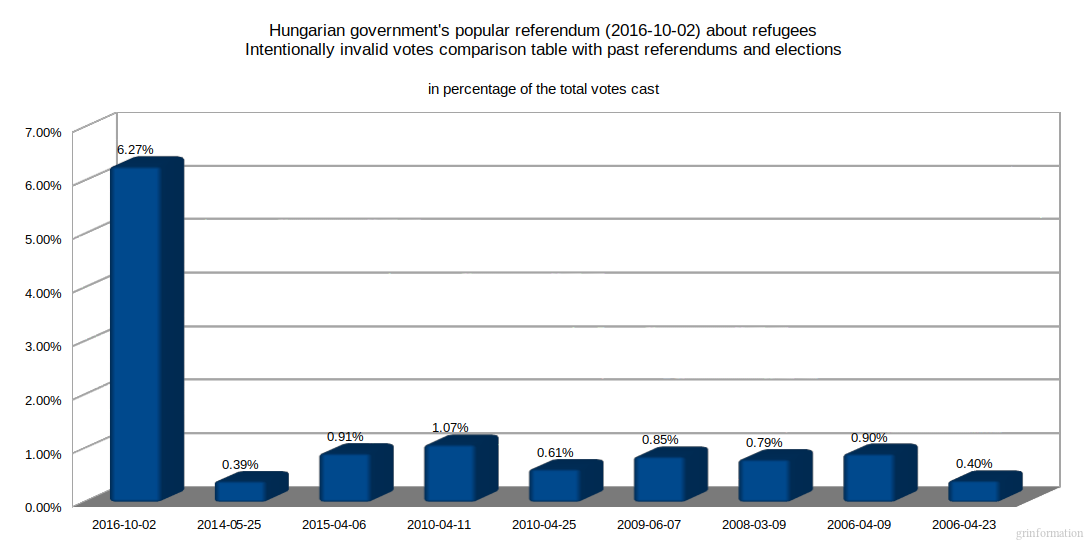 This graph shows that we have almost ten times higher invalid votes than we ever had (this is true for the older referendums as well but their available data is not easy to automatically compare). Based on some statistical data additionally to this 6.27% invalid votes many of the absent votes have been part of the boycott, which results 10%, or more possibly more close to 20% of the population who deliberately rejected the referendum.
When you only see that there were almost no "support for refugees" you must know that those more than 1.5 million of Hungarians (possibly many more) did show their support by not being a puppet in this evil, hateful, dark comedy.